How do the FIA ETRC trucks get to the tracks? It is a logistical exercise in itself but one which has benefits for the championship and the trucking industry at large
Logistics are crucial for every operation involved in motorsport. In the FIA European Truck Racing Championship, this aspect of running a team represents a challenge arguably even greater than in other forms of motor racing. That is down to the sheer size and weight of the cargo that has to be transported to each race.

"The challenges with the trucks is that everything is so big, so heavy and uses so much space. One axle is 1000kg, in terms of space and weight it's a nightmare," says Ivan Cruz, long time co-ordinator of three-time champion Antonio Albacete.

The operative word is 'challenge' here as different teams developed different solutions when it comes to logistics. "Some people let their [race] trucks get transported by transport companies. You only have a fixed amount of costs, you don't have to maintain a vehicle, don't have to find a driver and so on," explains Stefan Honens, technical director at Team Tankpool24 Racing.
Teams like Buggyra International Racing System transports their trucks on flat platform trailers attached to a tractor unit. That solution allows to use just one trailer to transport both trucks and leaves space for around six tires. However, the most common setup in the paddock includes bespoke trailers that accommodate motorhomes with race trucks attached at the rear end.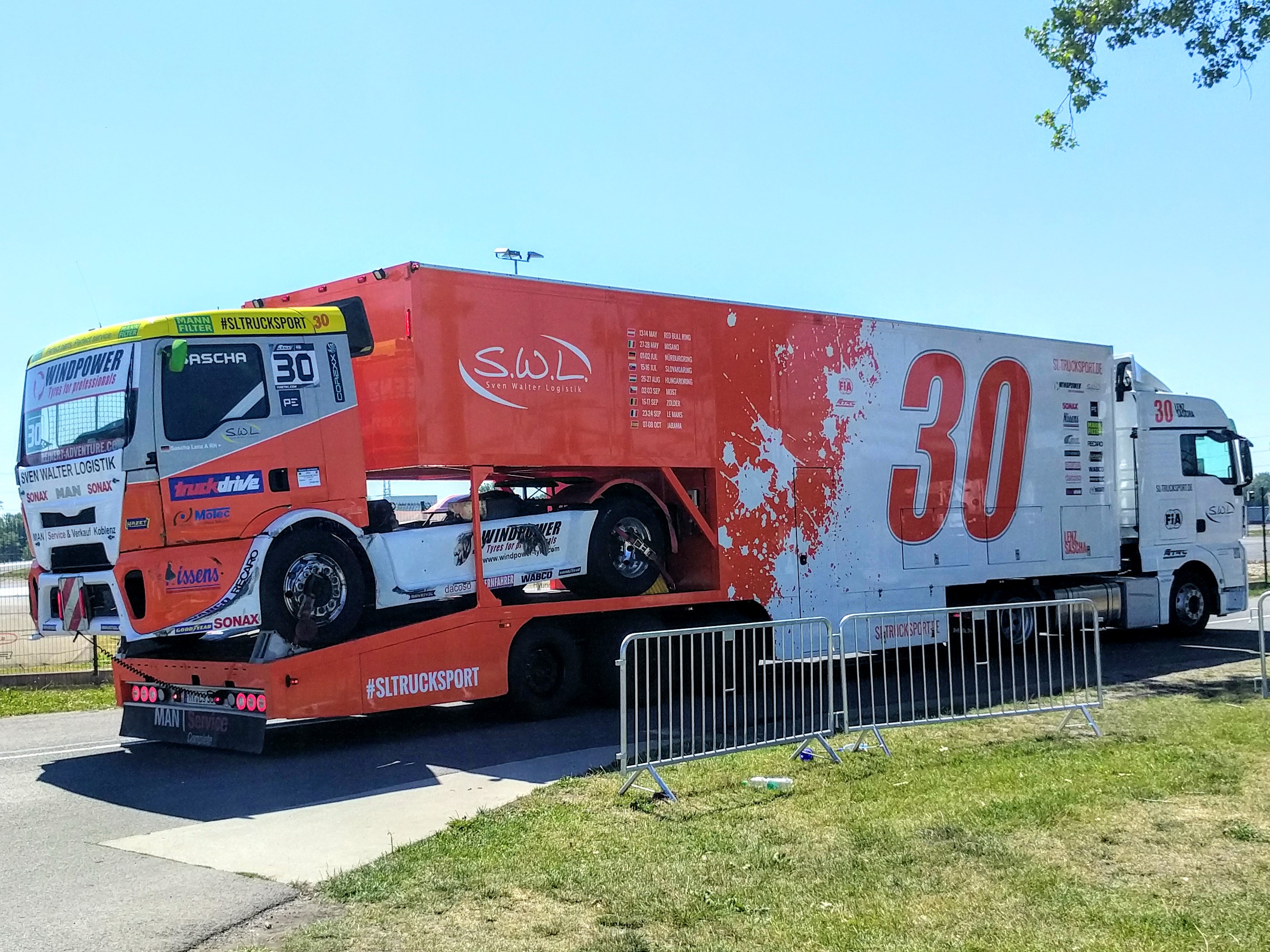 This way of transporting racing vehicles is not only practical but also serves as a mobile billboard to expand partners exposure. "The trailer is the image of the team, so when you travel through freeways of Europe professional truck drivers will see you, so the trailer has to be absolutely perfect. Therefore, I very much like when the [race] truck is visible outside because people can see it and that's the main advertisement. Many teams have it opened like this," says Cruz.

One of the possible setups for a team includes three vehicles. "We have two tractor unit-trailer combinations, our racetracks are always at the back and from there it's always motorhome and storage of spare parts, some tires etc. The big ones carry race trucks and the equipment and one 7.5-tonne truck does merchandise and basic team catering," explains Honens.
Team transporters are also their living space over the course of the racing weekends. "In CEPSA days our trailer had a very nice living space and kitchen, fridge, couches, air conditioning, heating and two beds, each of them bigger than normal size because our mechanics work hard and they need to sleep well. We even installed a shower, so that our mechanics were able take a shower without stopping at a petrol station," says Cruz.
Another interesting aspect of trucks that bring the trucks is the fact that they don't' have to be equipped with tachometers. "We're not a professional transport company, therefore we have a special permit and our trucks don't have to stop every four hours," explains the Spaniard.
Most teams build their transporters themselves. "On the used market of trailers you can buy a relatively inexpensive material [and adapt it]," admits Cruz. "It depends on what you want to do. In the truck world, you can do pretty much everything, depending on the money you're willing to spend. For example in our truck we had a lift that could lift 2000kg," he summarises.
So, even when the monsters of motorsport are not competing on the track, they are working hard on the road and showing that trucking and haulage are attractive and highly sort after career options off it.